Arreola and Thompson score knockouts in Reno!
Erik Killin/Art Sevilla ringside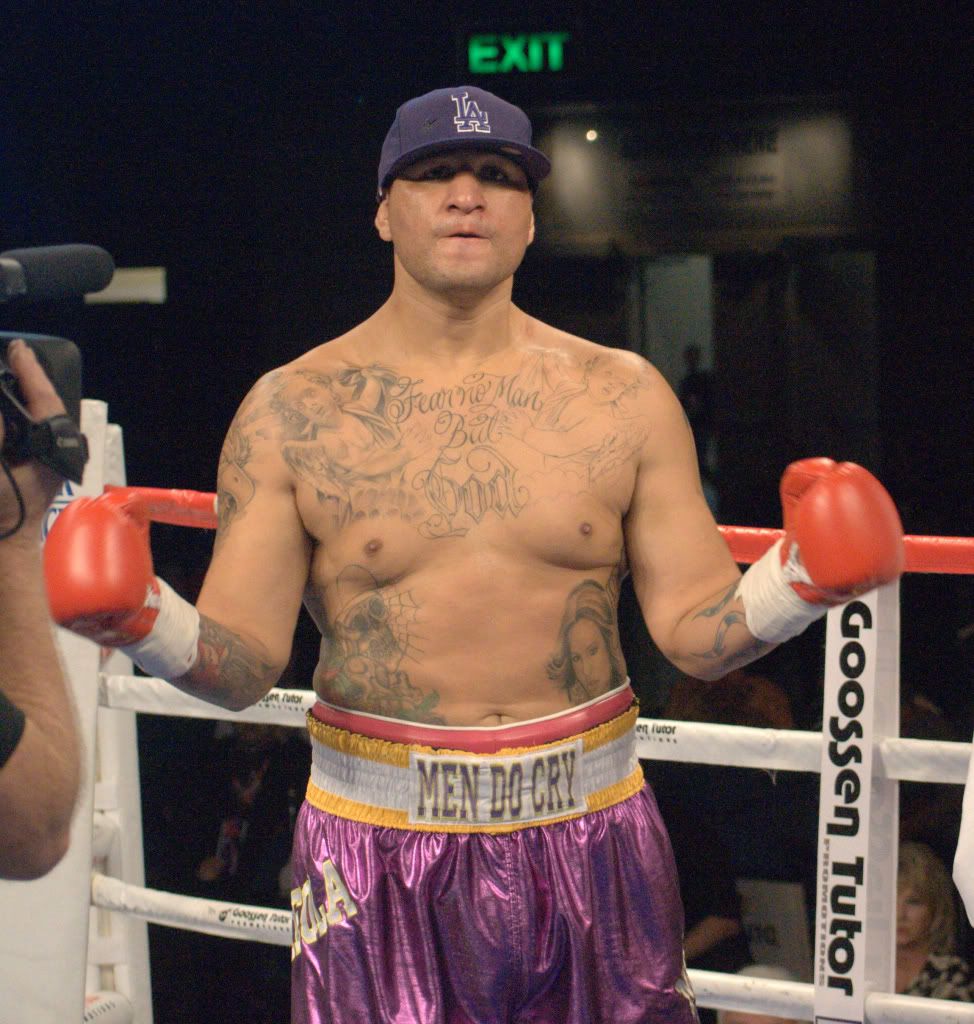 Popular heavyweight Chris "The Nightmare" Arreola fighting for the second time in the month of May defeated journeyman Kendrick "The Apostle" Releford by Unanimous decision. This was the Main event of ESPN2′s Friday night fights from The Reno events center in Reno, NV.
Arreola came out slow pawing with a jab. Releford returned with a couple of stiff jabs of his own. Arreola picked it up around the half way point of the round Cornering Releford and landing a few glancing blows and a solid right.
The Nightmare landed a nice uppercut to open round two. Moving forward and throwing the 1-2 Arreola continued to back up Releford. Some great body work from Arreola as Releford covered up. A thunderous left hook to body punctuated the round for Arreola.
Round three was similar to the previous round with Arreola continuing to attack the body with big left hooks. Some nice uppercuts from Arreola in the second half of the third to finish up strong.
The bodywork appeared to be taking its toll in rounds four and five. Releford slowed down with his mouth open though out the rounds. Arreola continued to walk him down throwing the 1-2 combo and going to the body. A few nice rights at the end of the fifth hurt Releford.
The sixth round was more of the same with Arreola landing combos and body shots early on. A big uppercut hurt Releford forcing him to take a knee. Releford weathered the storm and manged to survive the round.
Both fighters came out slower in round seven. Around the half way point Arreola landed a couple big rights and picked up the pace once again. A big left hook staggered Releford forcing referee Russell Mora to halt the action at 2:43 of round number seven. Chris Arreola improves to 32-2 28 Ko's while Kendrick Releford drops to 22-15-2 10 Ko's.
*In the co feature world rated heavyweight Tony The Tiger" Thompson dominated New jerseys Maurice Harris.
In round one Thompson came out behind jab, backing Harris up.Harris answered back with a solid right hand that seemed to surprise Thompson. Harris then began pawing with the jab while being hit with Thompson's.
In round two Harris began covering up while Thompson landed sloppy combos. Two right hooks behind ear dropped Harris mid round.
Harris bounced back coming out aggressive and going to body of Thompson backing him up. A solid 1-2 combo by Thompson drop Harris for a second him a second time. Thompson backed Harris into the ropes and spun landing a nice combo. A big uppercut and flurry forced referee Vic Drakulich to jump in and wave off the fight at stop it at 1:51 of round three.
With the win Thompson moves to 36-2 24 Ko's and sets up an IBF eliminator with Eddie Chambers
In the televised swing bout 2008 Olympian Javier Molina defeated David Lopez by unanimous decision.
Molina showed the speed difference right away backing up Lopez with some nice combos. A lead right hand dropped Lopez. The knockdown seemed to temporarily motivate Lopez, as he came back strong exchanging with the Olympian.
Molina continued to use his speed to flurry in the second round. A couple good counter lefts scored well for Molina. Nice body shots and combos to finish off the round for Javier.
In round three a couple left hooks sent Lopez on retreat again. Molina mixed in some upper cuts as well in the round. Molina showed his superior defense making Lopez miss through out the third round.
Lopez came out on attack to start the fourth as both fighters stood toe to toe trading shots. After getting the worse of the exchange Lopez seemed to go back on the retreat. Molina pot shotted the rest of the round.
Round five was more of the same with Molina in control. Using his superior speed to make Lopez miss and then land his right.
In the sixth Lopez came forward more but not effectively. Molina throwing combos and scoring when Lopez moved in. Molina coasted the second half of the round as Lopez had nothing to offer.
Scores where 60-53, 59-54, 59-54 all for Javier Molina. Molina improves to 6-0 4Ko's and Noe Lopez drops to 3-6-3
*In a crowd pleasing fight Sacramento's unbeaten super featherweight Guy Robb defeated David Lopez by unanimous decision.
In round one both fighters came out guns blazing with some vicious exchanges Robb appeared to land the harder shots through out the round. Robb finished round one with a nice flurry.
In round two it was more of the same as both fighter landed bombs. Robb landed a big right hook at the half way point that seemed to stagger Lopez a bit.
In round three Robb came out sloppy missing with some wild shots and at times struggling with the footwork of the southpaw Lopez. Lopez boxed a bit more in this round and fared a little better.
In the fourth and final round it was more of Guy Robb coming forward and Lopez backing up and countering. Another big hook from Robb while in the corner. A couple of straight rights land for Robb as he seemed to figure out the lefty as the fight went on.
Scores where 40-36 across the board for Guy Robb. Robb moves to 4-0 1 Ko and will be returning to the ring in Fairfield June 24. Noe Lopez drops to 8-8 5 Ko's
* In a dull, uneventful fight 2000 Olympian Ricardo Williams Jr. won a six round unanimous decision over Chris Gray. Scores where 58-56, 59-55 and 59-55
* In the opener a rematch of a November draw in Oakland, bantamweight Michael Ruiz Jr. won a six-round unanimous decision over Jonathan Alcantara.
Alcantara came out firing but was continuously countered by Ruiz. An accidental headbutt caused a cut on the left side of Alcantara's head. Ruiz landed a solid combo to finish the round.
Alcantera fared a little better in round two, nailing Ruiz with a left hook early that staggered him. Alcantara landed a couple solid left hooks to Ruiz that seemed to bother him.
In round three Ruiz came out landing a couple more left hooks. Alcantara continued to work the body abit and landed a good uppercut.
In round four Alcantara started the round with a big right hand. Ruiz picked it up in the second half of the round landing combos and working the body abit.
Both fighters appeared to take the fifth round off, after a busy previous round. Ruiz landed a couple solid counters and a good body shot.
In round six the two where back at it with Ruiz getting the better of the exchanges early in the round. Alcantara seemed to be bother by the body work and finished the fight in retreat.
Scores where 60-54 on 2 cards and 59-55 on the other. Michael Ruiz Jr. improves to 8-0-1 3 Ko's and Jonathan Alcantara drops to 4-4-2